Graphic designing is the key to growing the visibility of your business. The right graphic design on the right platform will help your business to reach a wider audience effectively. With the immersive digitalization, the companies are making a good call toward growth and promoting the firm globally.
The market for graphic design services was estimated to be worth $41.8 billion globally in 2021, with significant growth occurring annually. Today, it is much more enhanced with growing markets on social media platforms. The companies are gaining high credibility and fame with fruitful profit.
Every Business needs recognition!
If people know you, they will trust you!
But, nothing can be done on notes and text. You need to come up with visual ideas to show your brand in the market.
In this article, we'll talk about the importance of graphic design and the outcomes one can receive with it.
Let us understand the concept of Graphic designing.
What is Graphic Designing?
Professionals and experts practice graphic design while producing visual content to convey messages. Designers use creative font styles, logo design, text, templates, and images to meet the specific needs of users.
The significant purpose of practicing graphics is to concentrate on the logic of displaying elements in interactive designs to maximize the user experience by utilizing imaginary graphics through videos and page layout procedures.
The Graphic design services can vary from one agency to the next but could include anything from:
Visualizing brand recognition
Integrations on websites and apps.
Publications or promotions on books, magazines, newspapers, and others
Social Media promtions
Commercials and advertisements on other platforms
This signifies that whether you are looking to expand your business or want to explore the market, you will require the perfect graphic design agency to boost your marketing strategies.
Importance of Graphic Designing

1. Graphics can easily express what words cannot.
There is an idiom that says, "Actions speak louder than words." Graphic design companies tend to work on this idiom creatively. You cannot make your business grow until and unless you show your services visually to others.
ActoScript, a graphic design service provider, stimulate and creatively represent your startup branding values to the audience by utilizing the appropriate thoughts and taglines prominently.
2. Seize the Attention of Your Audience Visually
The audience always seeks change. They want to see something new and unique in your services. Through social media, website, and other mediums, you can promote your brand name with graphic designing techniques.
ActoScript has developed the ideal solution by giving each new website unique designs and a pattern that complements the outlook of their services.
3. Presenting cutting-edge graphics with better concepts.
With the growing market, the only company can gain an appreciation that offers something outstanding from the other. If you are unique, users will find their way to your services. Right graphic designing for your site will make you stand proudly in the market.
With excellence in visual creativity and skills in conveying the company offerings, ActoScript's graphic designers can surely dazzle you and your core audience. They offer higher levels of creativity that every business needs.
Benefits of Graphic designing for your business: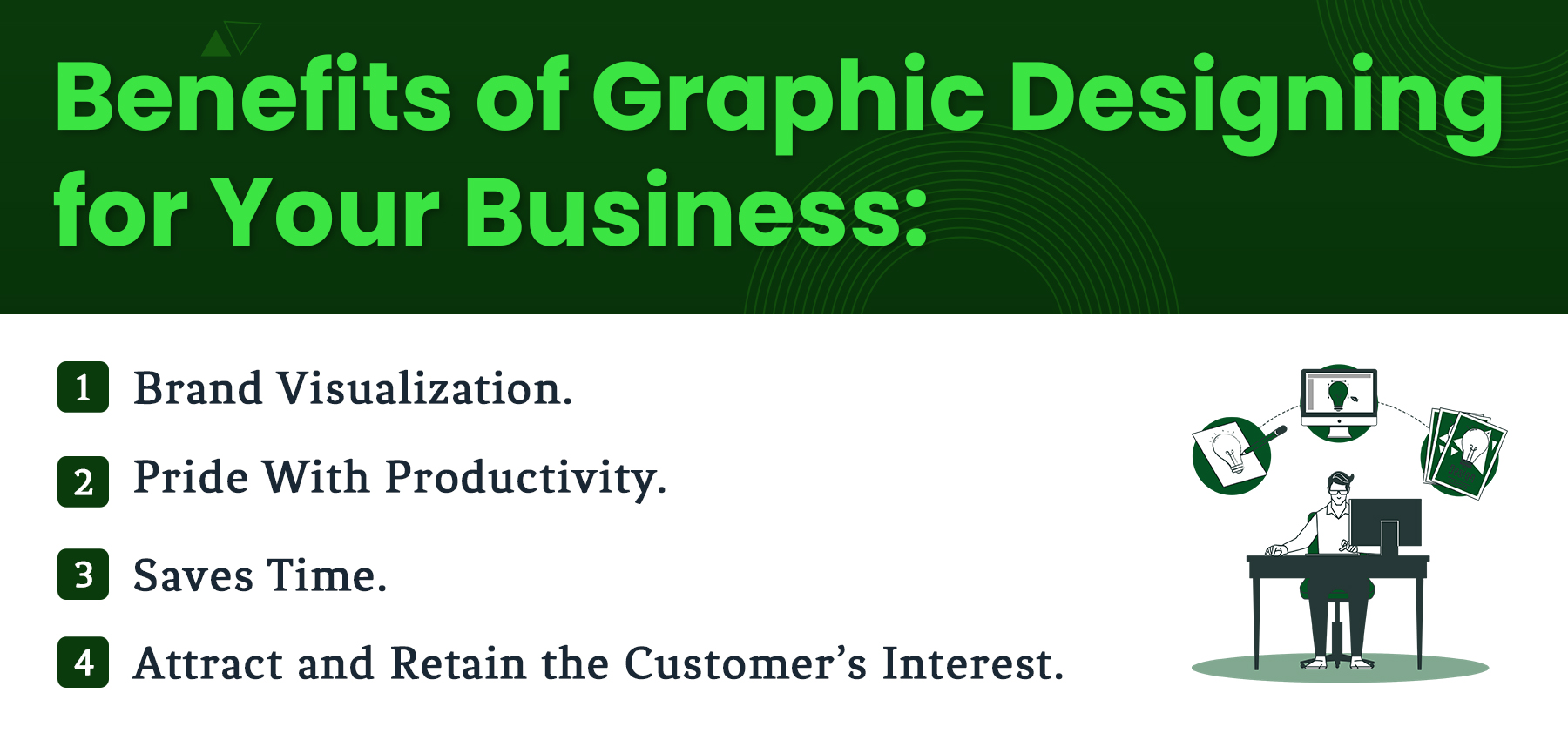 1. Brand Visualization
Interesting and sizzling graphic designs can help your brand stand out from hundreds of competitors in the market by bringing life to the firm image. ActoScript translates your ideas into reality by identifying the brand's essence and is likely to produce humorous and alluring graphics.
2. Pride with Productivity
If your brand is gaining appreciation, you will receive a talented workforce. The employees love to work in a reputational firm. So, by promoting the business through graphics, the company can achieve fame, pride, and profit with good productivity.
ActoScript believes to assist your growth digitally. By reflecting a company's vision on the global market, our digital marketing company can help you to build a positive brand identity.
3. Saves Time
If you tend to grow your market on a global level, it will take ages to promote through text and messages. Graphics can do this within a blink of an eye. The people will instantly know what exactly you want to show them. According to research, while promoting your brand, you only have about eight seconds to grab the attention of your audience. This is super easy with the right graphic design strategies.
With the graphic designing company, you can rest assured to handle the promotional features of your business.
4. Attract and Retain the customers' interest
Retaining existing customers' interest is just as crucial as attracting new audiences' interest. To make this happen, you simply have to keep updating the outlook and promotional features positively as per the interest of your audience.
ActoScript analysis the market of the entire firm and assists the growth with visual promoting strategies.
Let Your Business Embrace the Growth!
Graphic designing is for all! Even small businesses with low advertising budgets can use graphic design services to grow immensely. Truly, Graphic designing is more than just a trend!
The quality visualization with conveying words and taglines of your company can help you to get the attention of your targetted audience. ActoScript is consist of a well-designated and intellectual graphic designer team that offers complete branding solutions. For more details, contact us now!