Affordability of smartphones and easy internet access have made mobile applications a popular choice for tech giants, businesses, and start-ups. Although mobile App development is a very costly process, especially for startups, small and middle-scale businesses.
How to develop a mobile application at minimum cost
If you have just started to plan to develop a mobile application, then here are some tips you can use to reduce mobile app development costs.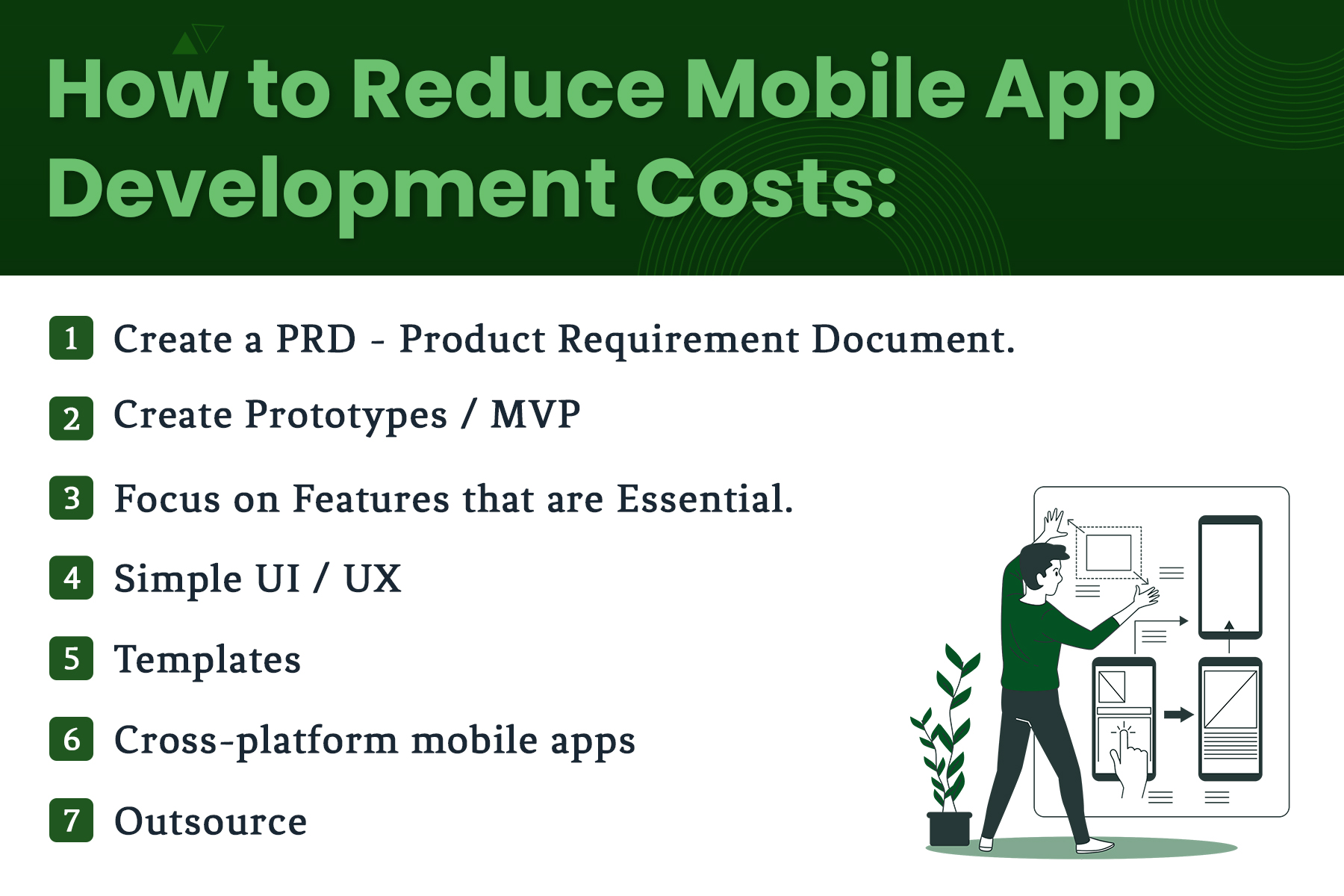 1. Create a PRD - Product Requirement Document.
There is a high chance you may keep changing the idea during the process of mobile app development service, as it is an intricate process and you can get new ideas after getting to know about all the possibilities. So, what you can do is, create a PRD- Product Requirement Document. Where you can list down everything you will need to develop the mobile app, and stick to the list till the end, as much as possible.
Here's what you can list down on your PRD.
1. Create a list of features you need for your product
2. List down your requirements for UI/ Ux
3. Pick deadlines for development stages
4. Create an estimate for each of those stages
5. Decide the platforms for your App.
2. Create Prototypes / MVP
Before developing your app on the actual large scale, you can build an MVP - Minimum Viable Product. MVP is basically a working prototype for your actual mobile app. You can create an MVP as a testing ground. It is cheaper to develop and can also help identify bugs and the practicality of your idea.
An MVP can also help you pitch your idea to an investor, and get an investment for your actual full-scale mobile app development.
3. Focus on Features that are Essential.
Sure, you can add so many features in your product to create a multifunctionality Application. But while developing the application, you should focus on essential features, as it eases the process and cuts down on cost. Plus, you don't want your application to be cluttered with features, as it gets hard for people to understand and actually use it.
4. Simple UI / UX
Like said earlier, focus on what is important. You can go with a minimal design and create an absolutely wonderful application. Minimalist designs are proven to be cost-effective and less time-consuming during the process of mobile app development and are also easier for people to understand the application better.
5. Templates
Another Mobile app solution is readymade templates. Sure, developing an application from scratch is a great idea, but if your application is just serving a necessity, then using a ready-made template is not a bad idea as well. It is cost effective and reduces the time to develop the mobile application.
6. Cross-platform mobile apps
Most of the time your target audience is diversified and platform-independent. So, instead of investing for each platform separately, you can use a single code base across multiple platforms. It can cut you a lot of costs in mobile application development.
7. Outsource
Hiring a whole team and investing in tools for developing your mobile app can cost you high. While hiring or let's say outsourcing your development work to a mobile app development company or freelance developers can cut you a lot of costs. As you get access to a group of talent, you can also scale your resources on demand.
To wrap it up
Mobile application development is a difficult and expensive task. It only takes some knowledge and a lot of patience and stability. At Actoscript, we understand the requirements of our client and our expert mobile app developer makes applications at the lowest cost with all new functionalities.